In Conversation with LMT Tools
Please tell us a little about your company. How do your offerings support the gear industry?
LMT Tools is one of the most renowned specialists in the development and production of precision tools. To ease machining is the company purpose of LMT Tools. We believe that customers should focus on their own operations because they can easily rely on the performance of LMT Tools' machining solutions. This enables them to offer excellent products that are successful in the market.
We serve the product lines of Gear Cutting, Milling & Threading, Reaming, Rolling Systems and Advanced Tooling. As an international network of experts, LMT Tools develops innovative tool solutions with reliability and fast services.
With our high performing gear cutting tools, we partner & provide solutions to leading gear manufacturing companies for their gear production. Our high productivity gear cutting tools help manufacturers to reduce their production cycle time coupled with our consistent engineering support and supplied reliable tools. LMT Tools is considered as a preferred & leading cutting solution provider in the gear manufacturing industry. Our state-of-the art manufacturing facility in Pune caters to the Indian as well global demands. Our niche offerings support the gear manufacturing industries in challenging application & technological advancements.
What are the latest advances in your field? How have you incorporated them into your business?
Increase in demand across industries leads for faster production requirements, which furthermore generates demand for machining solutions with less cycle time. This industry demand is pushing the tooling industry forward at a rapid pace. In keeping with these new trends in the cutting tool industry, we have taken a step forward and put in place our tooling solution. Recently, we have launched our Gear Skiving solutions with process reliable simulation.
With its high performance and wide range of applications, gear skiving offers great potential to produce internal and external gears and is clearly superior to conventional manufacturing processes in many cases. For example, it enables faster machining times than hobbing, it offers a wider range of applications than gear hobbing, and thanks to lower tool costs and the elimination of special machines, it also has an advantage over broaching.
To meet the challenging finish quality requirements, our finish hobbing tools are set in order to it. Finish hobbing tools produce superior quality gears, achieving required finish quality of gears. also shaving operation can be skipped for such gears. This enables gear manufacturers to achieve the required finish quality in production along with eliminating one operation resulting in great time saving.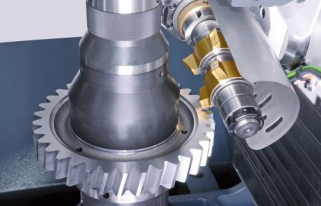 The hobbing of gears from module 6 onwards can be carried out extremely economical with LMT's
modern hobs with indexable carbide inserts. Image: LMT Tools
What are some of the latest product launches? Please elaborate about their capabilities and applications.
With our ongoing R&D, and an international network of experts within organization, LMT Tools continues to add innovative tooling solution in the product portfolio. Our latest addition in Gear Cutting tools include: Gear Skiving cutter, ChamferCut, next generation gear cutting inserts, and combination tools.
The ChamferCut allows cost-effective deburring & chamfering operation along with most accurate & consistent chamfer quality. In addition, there is the innovative Gear Skiving solutions with process reliable simulation. With its high performance and wide range of applications, gear skiving offers great potential to produce internal and external gears and is superior to conventional manufacturing processes in many cases.
Our Gear Cutting combination tools have Hob & ChamferCut on a single arbor. It is designed and produced to allow manufacturing flexibility with production of gear in a single set up. Separate machines for hobbing and chamfering can be eliminated with the help of combination tool. These tools help save on capital investment on one hand, and eliminate additional manpower on other.
What are your production capabilities? What industries do you serve?
LMT Tools is a technology driven & multi-product company, our Gear Cutting, Milling & Threading, Rolling Systems, Reaming and Advanced Tools are widely used in Automotive, Aerospace, Die & Mold, General Machining, and Wind Energy. LMT Tools combines its competencies in the brands LMT Fette, LMT Kieninger, LMT Onsrud and LMT Belin. Our production sites are in Germany, USA, China and India. The demand for our cutting tools ensures that we are well positioned to make the most of the opportunities presented. Innovation makes us competitive.
Our state-of-the-art manufacturing facility in Pune has a production facility for Hobs & SC End Mills with center of competence for Gear Cutting, Milling & Tapping, Thread rolling and Advanced tools. Currently we manufacture 15,000 hobs in a year at our Pune facility.
We have investment plans in our existing manufacturing facility making it more competent for round tools, hobs, and coating technology. All our engineers are trained in Germany and thus caters to the export demand for Gear hobs, SC End Mills. Our Indian manufacturing facility has been recognized with star performer award for highest export.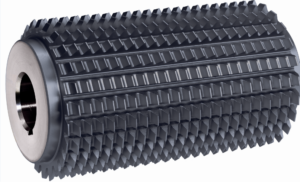 LMT's High Performer Carbide Hobs allows highest cutting speeds results into short machining time
also its longer tool life lowers down the gear production costs. Image: LMT Tools
What are your impressions of the overall India market?
What are the unique challenges and opportunities in this market? The Indian manufacturing sectors is growing well, and we are witnessing good investments. Not only do they cater to the local demands but also serve to global requirements as well. Indian manufacturers are exporting quality products to multiple countries which shows the global reliability in our manufacturing. There are certain manufacturing challenges still existing as we are still in a developing stage. In the manufacturing industry there is huge potential for automation, also few production facilities need to go for single piece workflow systems. Despite the challenges, there are multiple opportunities present that are knocking on the India's manufacturing sector.
What applications do you foresee for your products? Are there any specific machine types attracting the attention of the Indian buyer right now?
LMT Tools offers a range of gear cutting tools for a variety of application like Hobbing, Skiving, Chamfering in the gear manufacturing process. Our range of Gear hobs, skiving cutters and Chamfering tools are applicable across various module types. Our engineered and customized tools are being produced as per
SpeedCore is LMT's developed substrate for hobs which allows upto 50% higher cutting speeds
compared with HSS hobs. Image: LMT Tools
customer specific applications. We foresee lot many opportunities in the power generation & wind energy industries. Indian gear manufacturers rely on multinational sophisticated CNC hobbing machine builders to achieve precision in production
Do you do any CSR activities? What do you do for sustainability and the environment? What measures have you taken to reduce your carbon footprint?
Our CSR activities focus on taking a positive step towards collective upliftment and well-being of the community. With a focus on the education of bright minds of future India, we work with multiple educational institutions. We insist on including essential vocational skill training that enhances employability. Besides this, we participate in promotional activities for health care in rural areas. Apart from this, we are adopting green manufacturing processes in our manufacturing facilities in accordance with international manufacturing standards. There is a zero-carbon generation within the complete production process.
How will the launch of Gear Technology India help the industry?
Gear Technology India has taken a good initiative to build a rigid and one of its kind platform beneficial for all involved in the gear manufacturing ecosystem. With the introduction of Gear Technology India, we foresee a lot of knowledge exchange within the industry. In addition, shared upcoming trends and technological advancements will surely be helpful for process enhancement and improvisation in gear manufacturing. The lag of information availability at single place has been rightly addressed by Gear Technology India.