NORD offers Complete System Solutions for Drive System Requirements
Please tell us a bit about your company
With approximately 5,000 employees worldwide, NORD develops & produces a market driven technology, and is one of the industry's leading international suppliers of all-in-one solutions. In addition to standard drives, NORD supplies application-specific concepts and solutions that fulfil special requirements such as energy-saving drives and explosion-proof systems.
Founded in 1965, NORD presently has 38 subsidiaries worldwide. In India incorporated in the year 2005, NORD Drivesystems Pvt Ltd is the 100% subsidiary of Getriebebau NORD in Germany. We have a full-fledged assembly unit in Hinjewadi, Pune from where we cater to pan India & SAARC country market.
What are your manufacturing capabilities? What is the maximum size of gearboxes supplied?
Our Pune plant has a production capacity of 42,000 units per year including gearboxes, motors & Maxxdrive. The largest we assemble is case size 10, which can offer a maximum torque capacity of 50000NM.
What are the different types of gear units used in various segments?
Mainly there are Helical, Helical Parallel Shaft, Bevel, Worm & Planetary types of gearboxes which are used in various sectors. This depends on application, loading & demands. Except Planetary, NORD can offer solutions to all sectors. We offer innovative products like decentralize drives, IE4/IE5 motors, Maxxdrive XD for various applications.
What is the USP of NORD?
Customer satisfaction with timely responses. Our highly efficient products which helps in improving system efficiency.
Tell us about IoT on gearboxes/condition monitoring support to customers?
Complete drive solution from a single source:
An optimum and individual drive solution can be created using the modular NORD system consisting of the gear unit, motor, and drive electronics coupled with the highest product quality, short planning and assembly times, high delivery availability and a good price/performance ratio.
Condition Monitoring for predictive Maintenance:
For condition monitoring, the drive and status data are recorded periodically or continuously to optimise the operational safety and efficiency of machines and plants. This can provide major information for predictive maintenance. The objective is to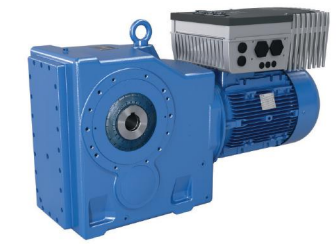 BLOCK Helical Bevel Geared Motor with SK 200EWeb
maintain machines and plants proactively, to reduce downtimes, and to increase the efficiency of the entire plant.
It has the following advantages for our customers:
• Detection and avoidance of impermissible operating states at an early stage
• Status-oriented maintenance replaces time-based maintenance
• Plannable machinery and plant downtimes based on real drive and process data
• Reduction of service and material costs
• Longer service life of components and machine
• Increase in system availability
• Avoidance of unplanned downtimes
• Plannable and cost-optimised repair
Please explain the initiatives taken about digitalization
With effect from the start of the LogiMAT trade show at the end of April 2023, NORD DRIVESYSTEMS will equip its products with a QR code. Scanning this code with your mobile forwards you to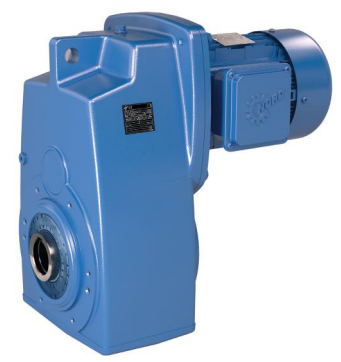 BLOCK Parallel Shaft Geared Motor 2
the "Digital services" selection menu. From here, customers can contact the service department and directly reach the right contact persons of their country organisation.
The contact persons speak the customers' mother tongue and the individually used drive solution is directly displayed on their monitors. Of course, it is also possible to establish contact by telephone. Here, customers must indicate the serial number of their drive component displayed in "Digital Services"
Customers can also navigate to the documentation of their components and to a list of potential spare parts via our E-spares shop. Furthermore, they can contact their responsible sales department or directly jump to the myNORD customer portal.
In the long run, NORD is working on the possibility to inform its customers of digital updates for their frequency inverters etc. via "Digital Services".

Amit Deokule, Director,
Sales & Marketing at NORD Drivesystems
Pvt. Ltd.